WHOLESALE TERMS & CONDITIONS (version 2)
TERMS & HOW TO PLACE AN ORDER WITH DONNA MAY LONDON
PLACING YOUR ORDER: 
First-time customers must email wholesale@donnamaylondon.com to be accepted as a suitable retailer. If your application is successful, we will then email you our current line sheet and prices. By placing an order with Donna May London, you are accepting our Terms and Conditions set out below. 
We strive to offer exclusivity within 10 miles in less densely populated areas. In larger cities and towns we will use our discretion.  International customers must sell within their agreed exclusivity regions.
When re-selling Donna May London products, wholesalers are prohibited from altering the products in any way ie. adding or removing design details, labels, stickers etc.Products may not be rebranded. Donna May London products hold the Donna May London trademark which may not be infringed upon.
MINIMUM ORDER VALUE:
First-time customers of Donna May London incur a minimum order value of £250. This is on a Pro-forma basis and items will be dispatched as soon as payment is made.
PRICING:
Wholesale prices are listed in pounds sterling and prices are subject to change without notice.
All products must be sold at our suggested retail price or higher. If discounts are issued, they must be limited to 15% off RRP.
Any discounts you wish to offer over and above 15%, must be discussed with us first.Please email wholesale@donnamaylondon.com
SHIPPING:
We use a courier service for all shipping and tracking information will be given on dispatch.
Free shipping is offered for all orders over £300.
RETURNS:
In the first instance, all return requests must be emailed through to wholesale@donnamaylondon.com within 7 days of receipt. Please quote your order number and reasons for return.
No returns are accepted without Donna May London's prior approval and delivery instructions for transport. Shipping will be charged.
Should you change your mind once received, a restocking charge of 15%. Returned merchandise will not be accepted if it is held more than 15 days after receipt.
PAYMENT:
All orders are on a Pro-forma basis and we don't currently offer any credit terms. Donna May London accepts all major credit cards, PayPal and direct bank transfers.
Orders will be dispatched within 3 working days. Larger orders may require more time and we will inform you of any delays at the point of order.
Any out-of-stock goods will be placed on backorder and shown on your invoice. If back-ordered goods are in stock at the time of your next order, they will be added to this order without duplication.
If you wish to cancel any back ordered items or not have back orders listed at all, please inform us.
DAMAGES & DEFECTS:
Please inspect all shipments immediately upon arrival. Please contact Donna May London by email, at wholesale@donnamaylondon.com, within 5 days of receipt of damaged or defective shipments. Please supply photographic proof of any damage. Damaged merchandise will be replaced with new merchandise.
FINAL NOTE:
Thank you so much for your support and please do share with us images of our stock in your stores. We will be more than happy to share on our social channels, driving people to your store. We're all in this together!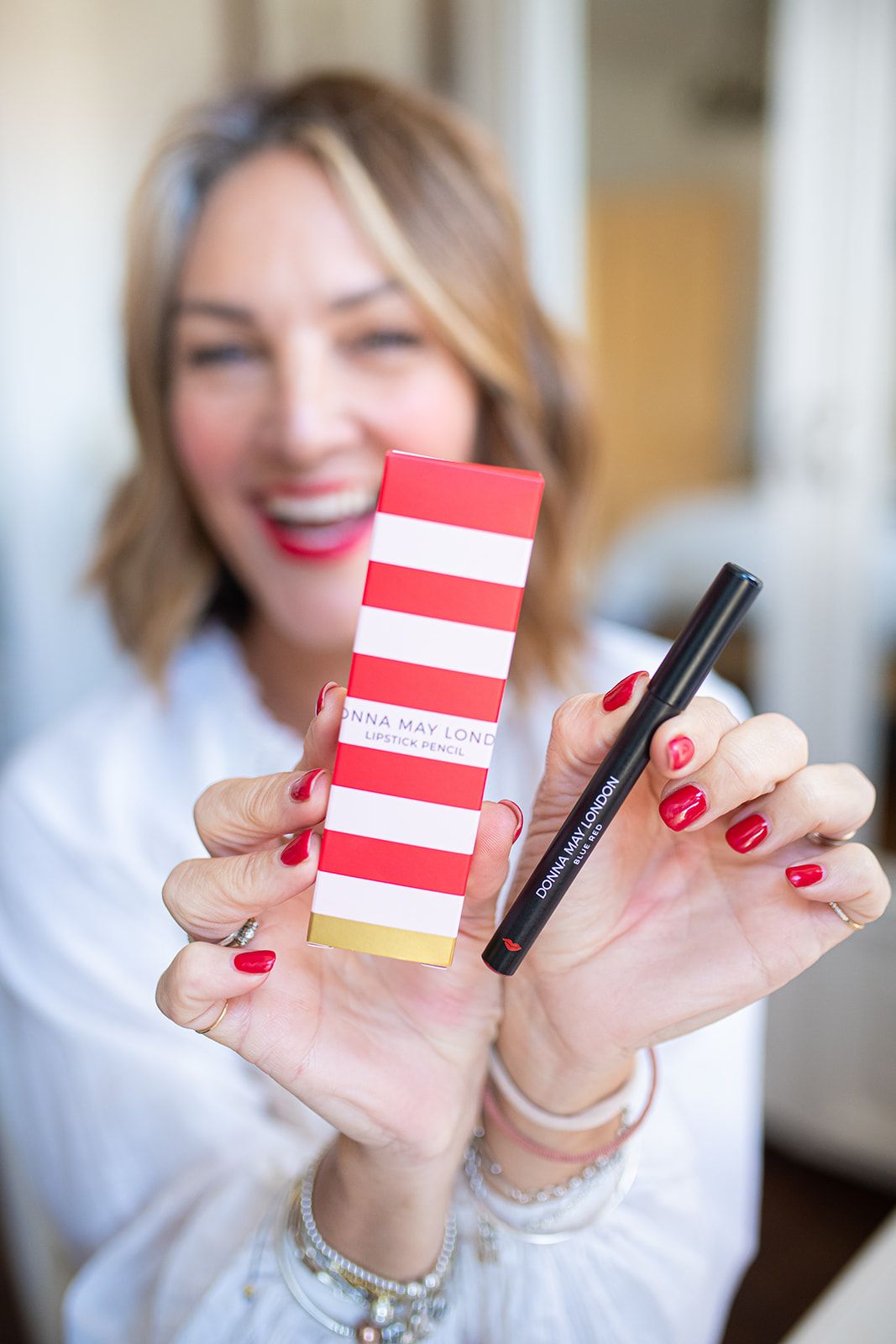 RED OR BLUE? WHICH RED ARE YOU?
Feminine yet bold & daring. Everyone can wear a red lip and there are only two choices -simple!
It's all down to skin tone, follow our chart below to help you choose which colour is best for you.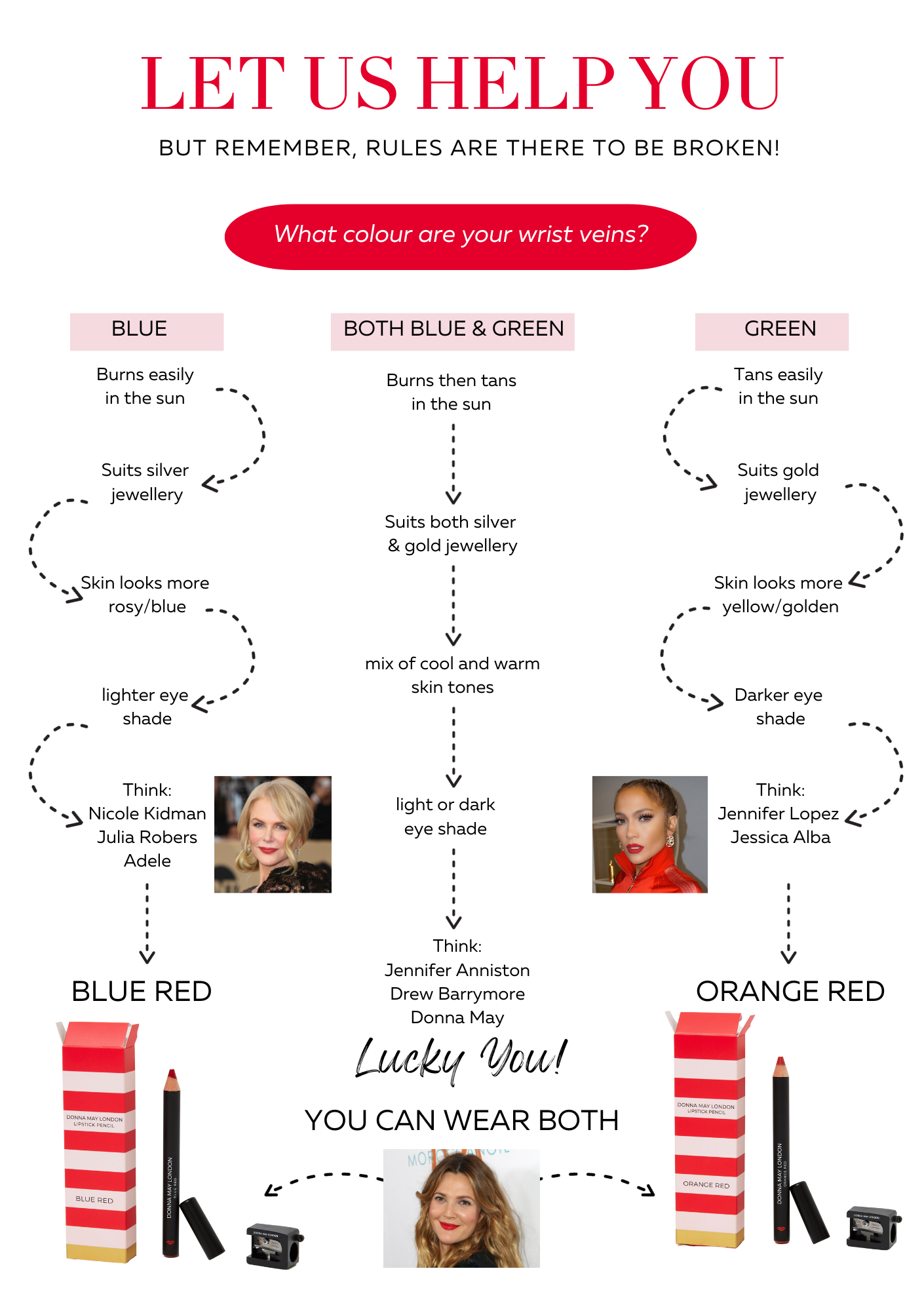 FOLLOW OUR SIMPLE CHART TO HELP YOU CHOOSE YOUR SHADE OF RED
Our simple flow chart is designed to guide you through the selection process of which red lipstick is the one for you. Some lucky people look great in both!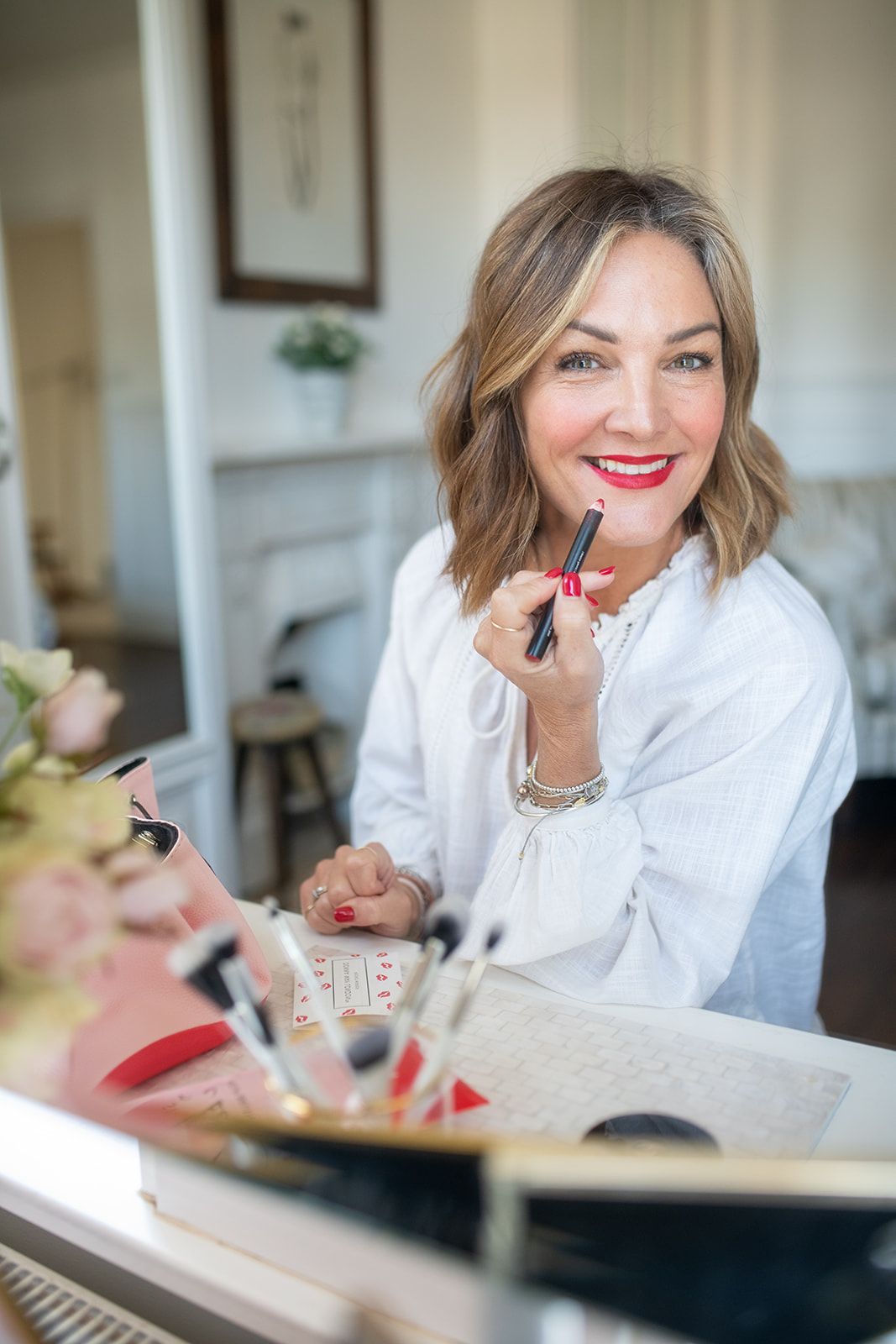 CLEAN SATIN IMPACT LIPSTICK
Sustainably produced and formulated lipstick delivers rich, one stroke silky smooth coverage and optimal spreadability.
Rich satin finish
Creamy and emollient texture
Hydraberry moisturizes lips while boosting hyaluronic acid levels
Vita Beautique and hemp seed oil actively nourishes and protect lips with antioxidants
Formula stays soft and smooth over time
Presented in a jumbo recycled wood pencil and aluminum cap for a 360° approach to sustainable beauty
Gallery Of Real Ladies Wearing Orange Red
Gallery Of Real Ladies Wearing Blue Red